The Capitol Hill district in Washington, DC is the nation's oldest, most historical, and most consequential neighborhood. As home to two of the three US branches of government - the United States Capitol and the Supreme Court - the area serves as a vital and central cog in world politics. Listed on the National Register of Historic Places (in 1976, fittingly enough), the area also features the revered Library of Congress, the Marine Barracks, and the Washington Navy Yard.

Although the Federal institutions garner much of the attention, Capitol Hill is predominantly a residential community. It's one of the largest and most densely populated such districts in the city. With a lineage that stretches back more than 200 years, Capitol Hill boasts a wide array of architectural styles, not just in its government buildings and houses of worship but throughout its residential neighborhoods.

Let's take a closer look at the aesthetics of this notable DC enclave, and tour the most popular architectural styles in Capitol Hill.
Federal
In the whole of Washington, DC, few architectural styles are more synonymous with their respective communities than the Federal style is with Capitol Hill. With boxy or rectangular layouts, flat facades, dormer windows, and resting at two or three stories high, most Federal-style homes also have understated or non-existent animation, except for minor detailing at the front entry, as well as simple gabled roofs.

A majority of the row houses found in the Capitol Hill District fit the Federal description, even as a number of them have undergone more modern updates both inside and out. Popular from 1780 to around 1830, the classic Federal-style was the dominant design movement in the earliest days of the new American Republic. Alongside DC., the Federal-style features prominently throughout the northeastern U.S., with large concentrations in Philadelphia and Salem, Massachusetts.

In Capitol Hill, exceptionally well-preserved examples of Federal-style architecture include the Friendship House and the Carberry House.
Italianate
Washington, DC rowhouses, and particularly those in Capitol Hill, often sport a range of design styles. It's not uncommon to see up to three types of facades in a single grouping of homes. The form that most often anchors these multi-styled blocks is the Italianate.

The style first appeared in England, then it crossed over to the U.S. at the height of the Victorian era. Bridging the gap between the plainer Federal-style and more ornate Queen Anne and Richardsonian Romanesque discussed below, Italianate offers rich detailing in subtle doses.

Italianate townhouses in Capitol Hill feature protruding cornices, thick brackets, and detailing around the windows. Front porches are typically small and understated. Though welcoming, they do so without much fanfare. Along East Capitol Street, between 6th and 7th Streets, sits a near-continuous display of well-preserved examples of Italianate townhomes.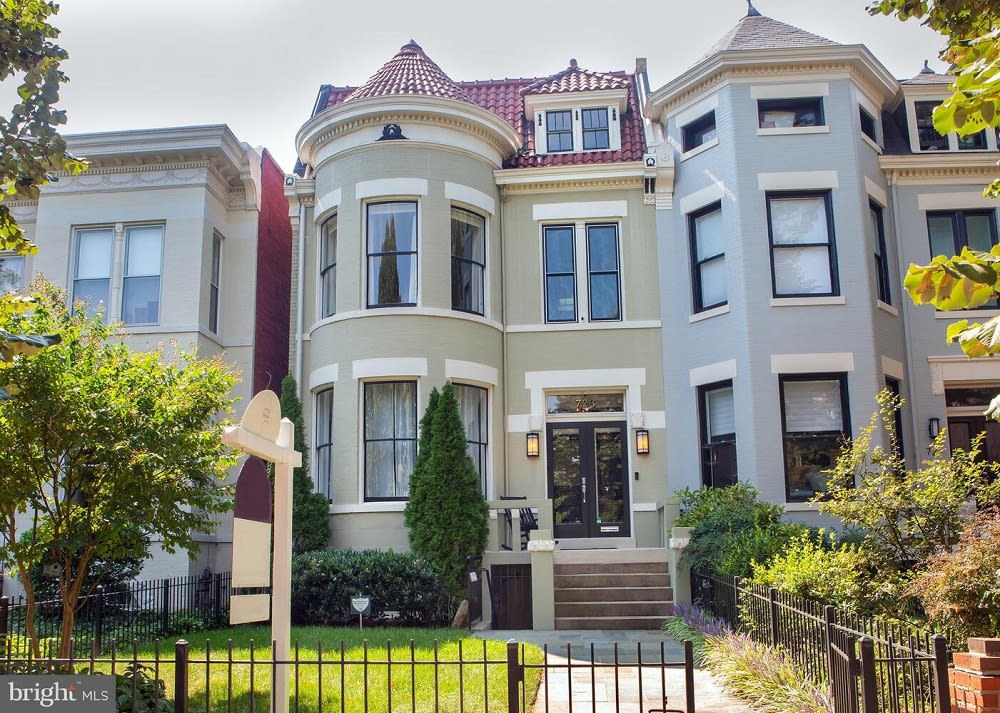 Queen Anne
There is no one defining style of the Queen Anne home. The Victorian-era design incorporates a number of characteristics, usually reflective of the builder's or owner's specific desires. Extensive ornamentation is a hallmark of nearly every Queen Anne structure, though the townhomes in Capitol Hill reflect a more subdued approach.

Even so, the variety of Queen Anne's in DC features variable building materials, different surface textures, and centerpiece architectural elements such as steeped roofs boasting eye-catching dormers and gables. Many Queen Anne homes also include the trademark Victorian era tower or turret. Less common in the townhouse design than a standalone home, Capitol Hill is fortunate to have numerous Queen Anne examples that carry this unique design element, many of which are squared off. Others possess the more recognizable rounded tower.

Queen Anne homes are prevalent throughout Capitol Hill. A simple stroll up and down the community sidewalks will yield several Pinterest-worthy pics. You'll find the highest concentration along the side streets between Constitution Avenue and East Capitol Street.
Richardsonian Romanesque
Named for architect Henry Hobson Richardson, his interpretation of the Romanesque Revival is a highly eclectic style influenced by both Roman and Medieval aesthetics. The easiest way to spot these architectural gems in Capitol Hill is the exterior building material. At times mixed with brick, Stonemasonry produced a rough, textured facade that set these homes apart from their Victorian contemporaries.

Contrasted with the more basic Federal style, Richardsonian Romanesque townhomes shine with a rough-hewed opulence. Windows and entryways accented with wide, stone-etched detailing and designs, rounded arches, gable and mansard roofs, many with foreboding stone towers and turrets topped with conical or pyramidal roofs - the distinct "witches hat" tower cap - make this a sought after home design in Capitol Hill.

Across DC, many non-residential buildings present the Richardsonian Romanesque form on a grand scale, including the National Bank of Washington, the National Union Building, the Old Post Office, and the Riggs Washington DC hotel in Penn Quarter. Residential homes bearing the Richardsonian Romanesque aesthetic are prevalent throughout Capitol Hill.
Colonial Revival
Apart from the random (non-rowhouse) single-family tear-down and 21st-century apartment or condominium building built upon scarce vacant lots, Capitol Hill has very few examples of modern 20th or 21st-century architecture. The vast majority of neighborhoods were already built out by the end of the 1900s.

One style that did take a presence from the late 1800s -- and into the first two decades of the 20th century -- is the Colonial Revival. Taking its cue from the homes originally built by English and Dutch settlers. Some may also identify this form as Georgian Revival, which calls back to early colonial settlements. In either case, both schools of design rate as two of the most popular and endearing in American architectural history.

Building materials in each revival are typically sourced from what's on hand locally. In Capitol Hill, that meant brick. Six-paned sash windows, with few adornments, are standard. For a rowhouse, the entryway is often the single most distinguishing characteristic. The Colonial boasts a more decorative walk-up with a portico and columns and sidelights. Georgian homes favored arched accents and brick patterns. Small in total numbers, the revival style dots the Capitol Hill landscape and are often treasured finds when up for sale.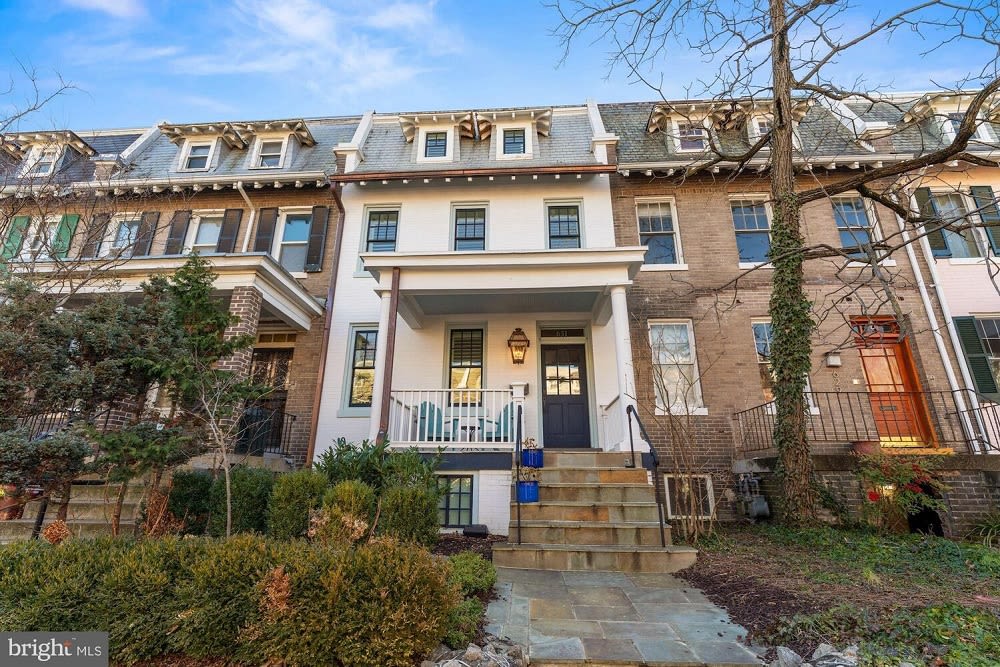 Additional Architectural Styles
Amongst Capitol Hill row houses, it's not uncommon to see several of the above styles sharing the same block or even the same wall. Though they remain the dominant architectural style, Capitol Hill is a highly eclectic community. If you're an architectural aficionado or simply someone who loves living amongst history and a wealth of interesting homes, there are few places more desirable than Capitol Hill.

The French Second Empire styles and the Chateauesque styles are a sample of several other architecturally significant home styles in Capitol Hill, that while not widely prevalent, prove a popular purchase should they ever come available.
French Second Empire
A lesser-known form -- at least on Capitol Hill -- that hailed from the Victorian era was the Second Empire movement. A modern style for its time that was largely bypassed during Capitol Hill's building boom, Second Empire evoked a decidedly French design acumen. Mansard roofs which could accommodate another full floor of living space, intricate dormers, and a mix of materials including wood, brick, and stone, allow these homes to stand apart. Several houses of this style that existed previously in Capitol Hill were demolished. A few, however, do remain, particularly along Independence Avenue. However, its larger legacy is the shared elements you'll find in other Victorian styles, specifically the mansard roof.
Chateauesque
It's not at all a common form to find within a block of Capitol Hill row houses — the Biltmore Estate in Asheville, North Carolina is the country's grand example of this form of architecture. In fact, a walk through the community will reveal scant few fully formed Chateauesque designs. But you will spot many of its most basic elements are recognizable in homes throughout the area. Stone and brick construction, steep dormers, oriel bay windows protruding from the second level, and a facade with distinctive movement between floors are hallmarks of this grand style.

With a lineage dating back to our nation's founding, Capitol Hill offers homebuyers one of the most unique markets in which to purchase a home. Many of those homes, however, are highly sought-after pieces of history. To secure a treasured piece of the past as your future residence requires research, patience, and the right partner to help guide you through the process.
Whether you're buying, selling, or seeking out investments, if you're ready to explore the best of Washington DC real estate, so are we. Contact The Greater Capital Area Team of Compass today to start your home buying or selling journey. From Capitol Hill real estate to Arlington or Alexandria homes for sale, allow our team's years of experience and expertise to be your guide to the Washington DC luxury real estate market.