If you're hoping to prepare your Georgetown home to sell, there are several easy options for brightening it up to catch the eye of prospective buyers. If you don't have a ton of time to get your home ready, consider focusing on bringing the exterior in tip-top shape. Here are some quick tips for boosting your Georgetown home's curb appeal in a few days to attract plenty of potential buyers.
1. Spruce It Up

You don't have to do any backbreaking work to get your Georgetown home looking spruced up and ready for company. Consider splashing a fresh coat of paint on your front door, window shutters, or fence. The front door is the exterior's centerpiece, and it's often one of the features that passersby will notice first. In urban areas like Georgetown, people are often drawn in by colorful doors, especially if they're well-maintained. With paint costing around $30 per gallon, this is an easy and quick improvement that doesn't cost a fortune. Make sure it matches the rest of your home's exterior colors, but don't be afraid to stand out on the block!

If you have an exterior mailbox, keep it looking neat, bright, and clearly labeled with any applicable street numbers or information. You can even reinstall a completely new mailbox if you choose; typically, these are priced around $20, so it's a small price to pay for a great-looking upgrade.

A mail slot in the front door should be easily accessible, and your street number should be visible from the street. This will help prospective buyers easily identify your home when passing by, helping them easily research the real estate listing if they're interested. House numbers can also be switched out and updated if necessary; plenty of home improvement stores carry these. It makes for an easy fix that will instantly make your house's exterior appear cared for.

​​​​​​​You can even switch out a tired old door handle for a newer, more chic doorknob to add a touch of uniqueness. Today, many secure options are available featuring cameras or passcodes, and this is certainly a modern feature that will appeal to potential homebuyers.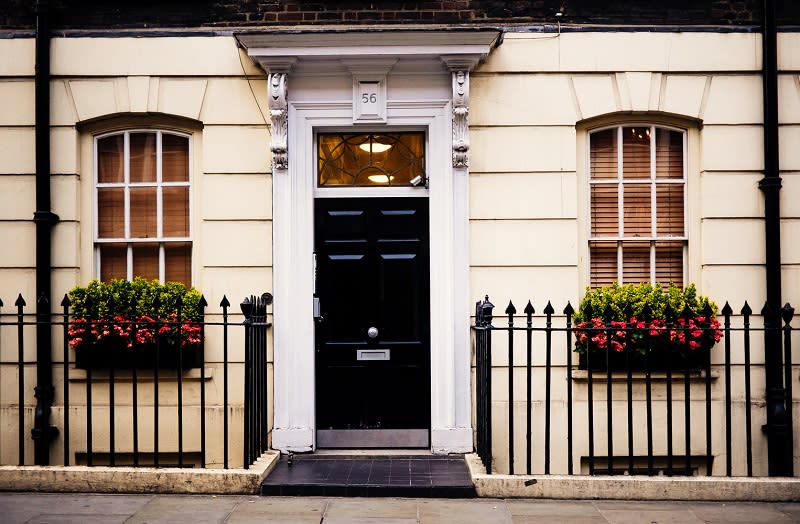 2. Add Personality

Adding a touch of your personality to the exterior home can make the property look much more welcoming. With pops of color here and there, potential homebuyers' curiosity can be piqued, causing them to give your home a second look. Be careful to clear away any existing clutter, like rainboots, watering cans, candles, or any other miscellaneous items that may have ended up on your porch throughout the season. You'll want to work with a blank slate and stick to a more minimalist feel with a dash of your personality so that potential buyers aren't overwhelmed and can still envision themselves decorating the home to match their style.

​​​​​​​Give your front door some extra personality by decorating with a seasonal wreath. While this decoration is most often associated with Christmas, you can find wreaths to accommodate every time of year, from floral arrangements in the spring to rustic and harvest-themed creations in the fall. This is a straightforward task that can instantly make your house look more appealing. A neat and attractive welcome mat also sends a warm message to anyone viewing the home. It also bodes well for the home's interior; if residents are serious about visitors cleaning off their shoes before entering, the inside of the house is likely to be neat and dirt-free.
3. Don't Be Afraid to Decorate

While it's best not to clutter your yard with glittering globes or splashy birdbaths, tasteful decor can add a lovely amount of personality and style to the outdoor space. Consider winding attractive string lights around railings or stringing them inside the porch, adding a sturdy bench, or selecting tasteful windchimes. These decorations can add a dreamy, cozy feel to the property, and potential homebuyers will easily be able to picture themselves living and entertaining there.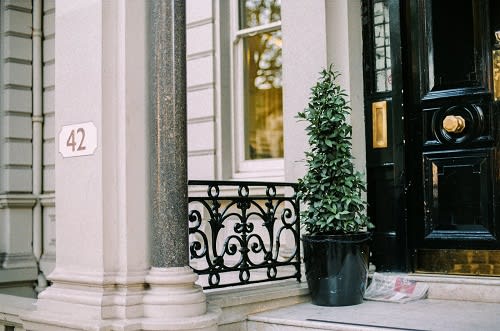 ​​​​​​​Clean and trendy patio furniture adds a homey feel, and if you have the time and the proper type of structure, you can even consider adding a porch swing. Buyers love imagining how they would use the space. Especially when looking to buy in an urban neighborhood like Georgetown, the idea of having an outdoor oasis to relax, read a book, or meet with friends is quite appealing to prospective homebuyers. Don't have time to scour furniture stores? Some truly amazing finds are waiting for you at local antique or second-hand stores, and you can always add some favorite throw pillows to achieve your desired look.
4. Create a Green Space

Consider displaying plants on your windowsills, porch, or patio. Planters and window boxes are some great ways to do this. They don't have to be overly high-maintenance, especially if you're busy with work and don't have much time to devote to watering or gardening, but they can certainly brighten up the space and make it look welcoming and homey. You might also consider adding a container garden to the front porch, which is an excellent way to generate buyer interest with beautiful, fresh greenery.

You also don't need to go overboard and run the risk of your patio ending up like a jungle. Some well-placed planters with tall evergreen bushes can add a lovely burst of color and create a stunning green space right in the heart of Georgetown.
5. Ensure Visitors' Safety

Even before a potential homebuyer sets foot inside your property, you should ensure that their safety is a priority. No one will be intrigued by a home that's on a poorly lit lot, especially if the yard is in disarray. Make sure to replace any broken hardware, whether that's door knockers or doorbells, and ensure that stair railings or walkway lights are properly secured. If you're listing during the winter months, you'll want to keep all walkways and steps shoveled and put down sand or salt to safely cover any icy patches.

If you can control how much light is cast on your property, you should do so. Passersby may not feel like the area is safe or welcoming if it's obscured in the dark, or it simply might not catch their eye. Use string lights to illuminate the porch, change the lightbulbs on your existing porch lights, or add new and brighter bulbs if possible. You can even invest in motion-sensing lights if you choose for an added layer of security. Nowadays, LED lights are easy options to keep your front yard from becoming cluttered with wires or extension cords since they're powered by the sun.
6. Perform Simple Maintenance

You may not have the time to devote to significant upgrades like those listed above, but that's okay—there are plenty of simple upgrades you can perform in a few days. Have you been neglecting cleaning out the gutters and rain spouts? It's not a particularly fun job, but it's an important one, particularly in the spring months with regular rain showers. Pull up any weeds and remove any overgrown plants from the yard or sidewalk, and if your home has a front lawn, keep it meticulously mowed and maintained. Nothing makes buyers look the other way like an unseemingly and overgrown lawn!

Keep your home looking spotless by power washing the siding, doors, driveways and walkways, and sidewalks. You can also wash the windows, letting your home shine inside and out. The longer you go without pressure washing, the more time there is for dirt, algae, and even mold to grow on your home's exterior; you may not even notice these developing over time, but for a buyer looking closely, these imperfections will jump out. If you're short on time and have to set some tasks aside, prioritize pressure washing over painting. You'll be shocked at how much a thorough cleaning can brighten up your home's exterior—you might not even need that extra coat of paint after all.

Prospective buyers will almost certainly be more attracted to a property that looks like it's been well-loved and properly cared for. It's hard to find interested buyers for neglected and dirty homes, but clean, upgraded ones can catch a buyer's eye from the moment they step onto the property.

Browsing Arlington homes for sale or looking to list a well-loved home? Get in touch with the team at today! These knowledgeable and friendly real estate agents will be happy to help as you list or search for new Arlington homes for sale.